We are really looking forward to welcoming you as one of our newest neighbors at City View apartments and you probably have a question or two about tax credit properties and the application process.
We've got you covered!
What is a Tax Credit Community?
Tax credit communities provide "workforce housing", which simply means housing for residents whose income is within certain percentage of the area median income. If your income falls between the minimum and maximum income restrictions, you may qualify for an apartment at a tax credit community.
What are the income restrictions?
The income restrictions are based on the number of people in the household and the size of the apartment home.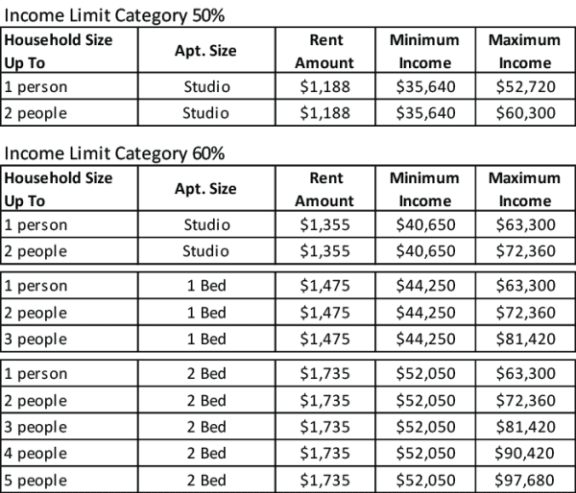 July 14, 2023
My income falls between the minimum and maximum range.
What do I need to bring with me to apply?
Government issued ID, SS card, or valid DHS authorization ID and for children: Birth certificate and SS card
Six consecutive paystubs
Monthly fixed income (must be within 30-day of application date)
Six checking statements
One savings account statement
Proof of any or all retirement accounts
$50 non-refundable processing fee
Click Here for more information about other WC Smith Affordable Housing options.
Before the application fee is accepted, the applicant is hereby advised that the eligibility criteria used in deciding whether to rent to the applicant are based on a review of the application, income (as detailed above) applicant's consumer credit history, applicant's pending criminal accusation or criminal conviction history (as permitted by applicable law, including, without limitation, the Fair Criminal Record Screening for Housing Act of 2016 (DC Code §42-3541.01 et seq.)), rental and eviction history (as permitted by applicable law, including, without limitation, the Eviction Record Sealing Authority and Fairness in Renting Amendment Act of 2022 (DC Code §42-3505.10)) and verification of employment.
Pricing and availability subject to change.